How To Apply
Thanks for your interest in showing your art at the Eight Annual Schomberg Street Gallery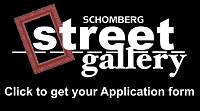 Application deadline for the 2018 edition of the Street Gallery is May 31st.
This year's show builds on its past success with:
Greater variation in media and style
More musical venues and food availability for attendees
This is a juried show, so not just everyone will be accepted, but we'd love for you to apply. Submissions are evaluated on originality, quality of workmanship, design excellence and professional presentation.
There are (of course) criteria, they include:
Open to all professional artists.
Artistic disciplines include the following categories: Painting/Artwork, Mixed Media - 2D or 3D, Ceramics/Pottery, Metalwork, Glass, Leather, Jewellery, Photography, Sculpture, Textile/Fibre and Wood.
Other categories are at the discretion of the Selection Committee.
Artists are required to display a minimum of 50% original work. Quality reproductions are acceptable.
Work that has been produced with commercial kits, molds, patterns, plans, prefabricated forms or other commercial methods is not permitted.
Only work created by the artist accepted as an exhibitor may be displayed or offered for sale. This must be
consistent with the images submitted by the artist and SSG guidelines.
Applications will be assessed based on the digital images submitted. The Selection Committee's decision is final.
Expect a repeat and growing crowd! The event committee received detailed and positive feedback from attendees, artists and Main St. merchants alike. We expect we will reap the benefits of the high calibre show; attendees were pleased at the high quality of artwork and attractiveness of the open air venue.
Participating artists must be ASK members. Current ASK members can apply to participate in the SSG by visiting the ASK site and filling in the Online Application Form. If you're an artist who'd like to become a member only if your work is accepted for the Street Gallery, you can fill in the ASK membership form on the ASK site.
I'm Tom Wray, Chair of the Schomberg Street Gallery. I encourage you to apply to this year's show.
If you have any questions, please email ASK: info@artssocietyking.ca