About the Author
Mark Lewis
Mark is the author of a number of white papers on DITA Metrics that prove the savings and high content reuse percentages possible with DITA's structured, topic-based architecture. Mark is a contributing author of DITA 101 Second Edition by the Rockley Group. His DITA metrics model was a JoAnn Hackos-Rare Bird Award 2009 Competitor. Mark manages the DITA Metrics LinkedIn group.
He has presented on technical writing, DITA, ROI and object oriented design topics at Intelligent Content, DITA North America, STC, and other national conferences. He and John Hunt co-chaired the OASIS DITA for the Web subcommittee. He has received the Society for Technical Communication (STC) Distinguished Chapter Service award and is the STC Summit Track Manager for Content Strategy and Design. Mark is a Content Strategist and DITA Educator for Quark.
You can follow Mark on Twitter as @LewisDITAMetric.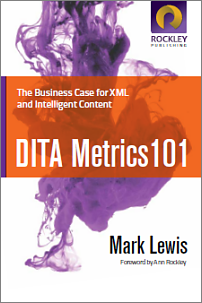 Order the Book
DITA Metrics 101 is now available for purchase at Lulu.com.

DITA Metrics 101 Companion Workbook
A companion workbook is available. It contains all the spreadsheets referenced in the book and is available for purchase and immediate download.
Get the Workbook now!