Whitepapers & Articles
We author whitepapers and articles on content management. Links to the files are available below.
Whitepapers
Articles and Interviews
New Rockley Group Publication - DITA 101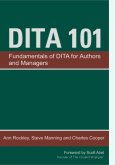 If you're in the process of implementing DITA, expect to do so in the future, or just want to learn more about it without having to wade through technical specifications, this is the book for you.

For more information, or to download a sample chapter, visit DITA101.com.
Order a printed copy or a PDF version from Lulu.com.
Managing Enterprise Content: A Unified Content Strategy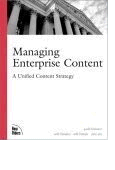 "This book is destined to become the industry standard for implementing content management"
Judith L. Glick-Smith,
Amazon reviewer
For more information see the book website.
Join the Rockley Community
If you would like to join the Rockley Community, to receive information on content management tools and technologies, content strategies, content standards, best practices, educational opportunities, conferences, online resources and more, please click here.