Resources
Here you will find our white papers, links to our articles published in other journals, as well as other information relevant to content management and information architecture of content management.
Managing Enterprise Content: A Unified Content Strategy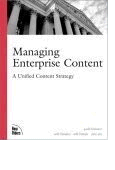 "This book is destined to become the industry standard for implementing content management"
Judith L. Glick-Smith,
Amazon reviewer
For more information see the book website.
Join the Rockley Community
If you would like to join the Rockley Community, to receive information on content management tools and technologies, content strategies, content standards, best practices, educational opportunities, conferences, online resources and more, please click here.